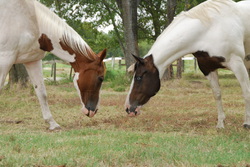 Bobbie's recovery from the snake bite last week has been slow but I'm happy to report that she is improving daily. At first her coordination was really off, making it difficult for her to walk a straight line into her stall or even stroll through the pasture without running into the fence. We wanted to close her in a stall to prevent this but the steroid she has been on for the snake bite had her pacing and anxious. Instead of locking her up, we did the next best thing - we put Rey in the small pasture with her.

Rey is a four year old foal out of Bobbie. She is gentle and cautious and has never stopped showing her admiration and affection for her mom. Even under normal circumstances, they spend a lot of time together. At some point it changed from Bobbie looking after Rey to Rey watching over Bobbie. For instance, when the herd moves from the front of the property to the back pond, Bobbie's pace is slower than the rest so she lags behind. It's not unusual to see Rey standing between Bobbie and the others patiently waiting on her.

When we put her in the pasture with a pitiful, snake bitten Bobbie that couldn't hold her head up or walk a straight line, we hoped she would protect her and reduce the obvious stress Bobbie was under. She did not disappoint us. That first day when I witnessed Rey watching Bobbie's every move and quickly putting herself between a fence or gate or tree and Bobbie when she would begin to lose her balance, I was humbled. Rey hardly ate. She just stood close by and watched over her mother. She let Bobbie lean on her when she slept (Bobbie was not coordinated enough to lay down for several days) and Rey would guide her to the water trough now and then. When we called them to the barn so that we could give Bobbie her shots, Rey would walk her safely into the corral and wait to escort her back to the pasture.

It's been a week and Bobbie is doing very well. She is holding her head up. Those big brown eyes have never been more beautiful. She's regained her strength and along with it, her coordination. I'm sure the prescriptions had a great deal to do with this miraculous recovery, but I can't help but believe that Rey's attentiveness and calm were the real medicine.

Once again, the more I pay attention, the more I am amazed. This week Rey reminded me that patience and compassion are invaluable in our relationships - as friends, parents, children, partners, even strangers .... yep, I'm being schooled by a four year old horse.