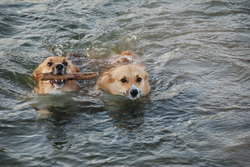 ...It's pretty apparent to me after this evening's walk that it's not me! These boys LOVE to swim but since the weather has gotten a little cooler and they take longer to dry, I haven't been letting them in the ponds.

However, that all changed a few days ago when we went on one of our typical walks around the property. In true doggy fashion, they always find something to roll in but it's usually a dead bug, a crawdad hole, or a snake skin if I see anything at all. This time they dove under the fence and found new smells on the neighbor's side. They began rolling feverishly as if they just couldn't get close enough to whatever had their attention.

I was taking photos of the horses and didn't give them much thought until I started heading back to the house and called them to come with me. When my two puppies appeared before me, unrecognizable and dressed in cow poo, I immediately screamed at them "go swimming" in the meanest voice I could muster. They took off with lightening speed and I heard a spash long before I got to the pond. I found a stick and threw it at least a dozen times for retrieval to make sure they were clean before getting anywhere near my back door.

The next day we went another route on our walk, avoiding the neighbor's pasture, and stayed close to the woods instead. There we came upon an area where wild hogs have been partying in our pasture leaving huge dugouts of dirt. Tank and Jag quickly grabbed hold of their scent like it was lavender and rolled to their hearts' content. By the time we left that area, I had two dirt brown dogs from head to toe. Again, I yelled, "go swimming" and they happily ran to the pond. By the time I got there, Jag had found the stick from the day before and brought it to me. After several tosses, we were on our way back home.

This evening I grabbed my camera like always and we headed out. We went to the back pasture to check on Beau. (His feet have been doing really well so he's getting to spend more time grazing with his girls.) As soon as I turned my back on those little Corgi hoodlums, they were back under the fence wallowing in whatever nastiness they could find. I no more than called their names before they dashed past me and ran to the pond. I never had to give the command. THIS time, Jag actually took the stick and laid it by the bench where I usually sit my camera before he dove. I swear to you they literally frolicked and smiled as if their plan couldn't have worked better. What better way to get to go swimming than to get dirty and be ordered into the pond?!

Now I find myself smiling at my very clean, very tired Corgi Boys. I'd like to come up with a plan of my own to avoid this newly developed ritual tomorrow but I'm pretty sure I'll be outsmarted again. Who's in charge at your place?